NEW !!!!
BRIDGET THE WEREWOLF AND THE SEVEN CRYSTALS – BOOK 2
BUY ON AMAZON.COM now!!!
Bridget, the bravest werewolf in the United Supernatural Nations, is just recovering from attempts to murder her when Mr Chow, head of the USN, asks for her help.
Treacherous grim reapers are planning a catastrophic takeover of the USN and plotting to bring all supernatural life into the deadly alter-world. Bridget is the USN's last chance to stop the reapers.
Bridget can't do it alone. Working as trinity of mind, body and spirit, Bridget together with a vampire and a half-spirit Banshee are forced to go on a worldwide mission to find the seven sacred crystals of ARUAM. Once all seven stones have been assembled, the team must perform the ancient extinction ceremony in Red Square, Moscow, that will end the reapers reign forever.
But the reapers won't let these teenage warriors win and their evil agents strike to crush and kill Bridget, Molly and Dhani at every turn. The teenagers will never become saviours of the USN.
 BRIDGET IN WEREWOLF REHAB – BOOK 1
What happens to werewolves who aren't savage beasts and vampires who don't like blood? They get sent to rehab, of course! Welcome to Bridget's crazy world.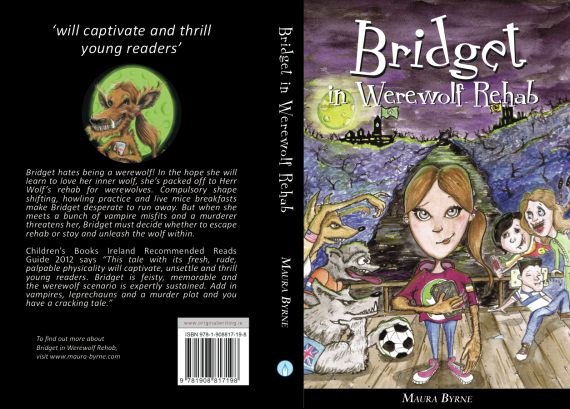 What Children's Books Ireland Recommended Reads Guide 2012 said about Bridget in Werewolf Rehab:
"JK Rowling combined school and magic; Maura Byrne mixes rehab and werewolf. And the mix works. Set in Mallow, Bridget and other cosmopolitan, special-needs teenagers skype, have laptops, but they also shapeshift, howl and growl. Their destiny: being a werewolf. This tale with its fresh, rude, palpable physicality will captivate, unsettle and thrill young readers. Bridget is feisty, memorable and the werewolf scenario is expertly sustained. Add in vampires, leprechauns, a mystery violet-coloured bottle and a murder plot and you have a cracking tale."
What children are saying about Bridget in Werewolf Rehab – Book 1:
I have just finished 'Bridget in Werewolf Rehab' and I enjoyed every bit of it! One of the things that I loved about this book is the creative storyline. I mean some book's can be somewhat generic and bland, but no one has ever thought of the intriguing idea of a school that turns you into a werewolf before! If I had to choose just one of the many amazing characters that I loved the most it would have to be Bridget. I just loved her personality! Thank you for reading this review, I hope it encouraged you to read this wonderful novel.
Kathleen O'K  5-6-2015
I'm 10 years old and I just finished this book today. I really enjoyed it because I like the way the main characters are werewolves. My favorite part of the story was when Bridget went into the headmaster's office and then 3 other people came into the office and she hid behind the door and listened to them chatting about a community race for werewolves and vampires to let them get to know each other. Then the principle found her. He stayed calm and brought her out of the room and told her that she would be team captain of the race. He was not mad at her! One of the things that stood out to me was that the head of the vampires never walks indoors – he knocks on windows and flies in when the window is opened. It's really odd. Emer O'G-W – June 2015
I think the story is great. I love the way she made loads of twists and turns in the story. My favourite part was when Bridget and her friends met the vampires and this was because there was a big fight that came out of nowhere and was a complete shock. The Leprechauns in the forest were scary when they put any passerby into a deep sleep although this kinda funny too. I would really recommend this book for all good readers from 9 years on and I was really glad my teacher made me read it because it was so good. In fact I couldn't stop reading it until I got to the end of it and I can't wait for the second book. Tom W – June 2015
 "At the start I thought that this book was going to be boring because  I don't like fantasy books normally but after reading it, I changed my mind totally. There are so many characters and the ending is very surprising and brilliant." Jason – March 2015
I love this book it has been one of the most descriptive books if you are reading this as a comment take my word YOU HAVE TO BUY THIS BOOK!!!!!  Alannah Walsh – Feb 2014
"Wow I SOO loved this book! It was the best book I EVER read!!! It was very funny and really thrilling in parts, I just could not take my eyes off it. I give this book 90000 out of 10!!" Emma July 2013
"Hi,Thanks for writing this well written book!It was a very good book.I loved this long book.It was so sad at the end then it got interesting.I HOPE YOU WRITE ANOTHER BOOK. Well done." Eilish April 2013 
"I love Bridget in werewolf rehab. Im a big fan of werewolfs .it was the perfect book for me." Aoife April 2013
"Bridget in werewolf rehab is a fresh new hit that I couldn't put down. With everything a great book needs 'Bridget' is a smasher." Taylor – July 2013  
'I absolutely love this story and that there are so many characters and they are all so different.' Jennifer 
'This is an excellent story and there is a lot going on.' Aoife 
'I give it 99 out of 100. Good work.' Thomas 
WIN         WIN          WIN        WIN          WIN          WIN      WIN 
When you post a review (click here to do so) your name is entered into our monthly competition to win a huge box of chocolate mice for you and your class, a gruesome set of hairy hands and a specially designed 'bridget in werewolf rehab' mouse pad! Good luck!!!
Where to buy 'Bridget in Werewolf Rehab' Book 1 and 'Bridget and the Seven Crystals' Book 2
'Bridget and the Seven Crystals' – Book 2 and 'Bridget in Werewolf Rehab' – Book 1 are available now to download or buy in paperback on www.amazon.com
Simply click on www.amazon.com and search for 'Bridget the Werewolf' – to download or order your paperback.

You can order a copy of Bridget in Werewolf Rehab – Book 1 and Bridget the Werewolf and the Seven Crystals – Book 2 right here. Price €9.99 postage included. A chocolate mouse will be included with your book. Just click the PayPal button to proceed securely.